A-LINE
n.
A dress silhouette that has a fitted bodice and slight flare starting around the waist, extending to the floor.
AISLE RUNNER
n.
Usually a long white cloth that runs the length of the aisle. It is pulled out just before the bridal party enters.
ALTAR
n.
Commonly a sacred, elevated platform or structure where wedding ceremonies/exchanging of vows (religious rites) are performed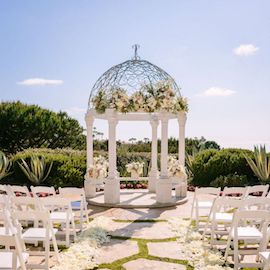 ANEMONES
n.
A delicate spring flower known for its dark center. This perennial, which is also known as "windflower," comes in a variety of colors (purple, red, pink or white).
APPETIZER
n.
The first course, consisting of hors d'oeuvres, is designed to sustain guests until main course is prepared; also known as cocktail hour.
APPLIQUÉ
n.
A decorative design made of one material sewn over another.
BALL GOWN
n.
A dress silhouette with a fitted bodice and full skirt. Appropriate for traditional or formal weddings. Also known as a "full skirt" wedding dress.
BASQUE
n.
A waistline that dips below the natural waist forming a "V" above the pelvic.
BATEAU
n.
A high-neck silhouette that extends horizontally from shoulder to shoulder. It gained popularity in the 1960s, and is also referred to as a "boatneck."
BATISTE
n.
A semi-transparent plain-woven fabric.
BEST MAN
n.
The brother or close male friend of the groom serves as his confidant and right hand man
BEST WOMAN
n.
The sister or close female friend of the groom serves as his confidant and right hand woman
BEZEL
n.
A metal rim that encircles the entire gemstone and is an alternative to prongs.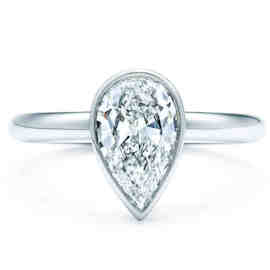 BIRDCAGE
n.
A veil that skims the face and head, never falling below the chin.
BLACK TIE OPTIONAL
n.
A dress code in which tuxedos and formalwear are suggested, not required.
BLACK TIE
n.
A formal dress code that calls for men to wear tuxedos or a formal, dark suit and women to wear evening gowns or long or formal dresses. Generally reserved for events after 6 o-clock in the evening.
BLUSHER VEIL
n.
A short veil that covers the bride's face as she enters the ceremony, and is . Also known as a "shoulder length veil.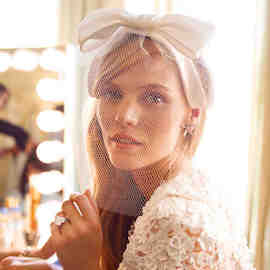 BOUFFANT VEIL
n.
A cloud of tulle that rises high above the bride's head. This style gained popularity in the 1950s, when brides wore it combined with a tiara or satin headband. Today's bouffants are more understated and are typically worn without a headpiece for a cleaner, more modern look.
BOUTONNIERE
n.
Small floral arrangements — sometimes even just one flower — worn by men in the wedding party on their lapels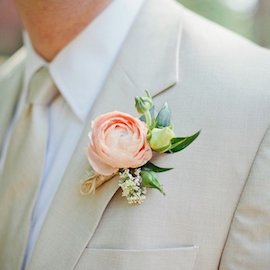 BRIDAL PARTY
n.
Bride, groom, bridesmaids, groomsmen, ring bearer and flower girl
BROOCH
n.
Brooch bouquet; attached to garments and decorated with enamel or gemstones; used to adorn
BRUNCH
n.
The meal that is eaten in the middle of the morning as a substitute for breakfast and lunch; often accompanied by a mimosa
BUFFET
n.
A dinner style in which guests serve themselves from a designated buffet area. Traditionally less expensive than a sit-down dinner served by waitstaff.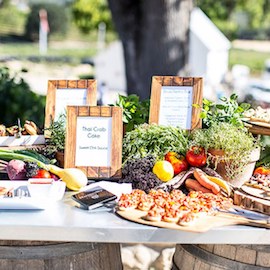 BUSTIER
n.
A form-fitting undergarment which features boning or mesh panels and a bra top. A form of shapewear worn under the dress (or as lingerie), it pushes up the bust and shapes the waist. Shorter than a basque top
BUSTLE
n.
A type of framework used to expand the fullness of the back of a woman's dress. Many modern gowns contain hidden strings and buttons made for tying up the bustle after the ceremony so the bride can dance more freely at the reception.
BUTTERCREAM
n.
A common type of icing that is soft, creamy and sweet. It can be used to cover the outside of your cake or as a filling between layers.
CAKE TABLE
n.
Displays wedding cake; where the bride and groom "cut the cake"; can be the center of attention and a showcase of personality
CANAPÉ
n.
An open, bite-size appetizer served on a small round of bread, cracker or vegetable.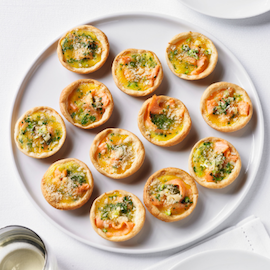 CANDLEABRA
n.
A branched candlestick with arms that can hold multiple candles.
CANDY BUFFET
n.
A buffet of various types of candy; great alternative to favors ; a whimsical and youthful addition to décor
CARD STOCK
n.
Paper stock that is thicker and more durable than normal writing paper, but thinner and more flexible than other forms of paperboard. It is often used for wedding stationery including invitations, menus, programs, and escort and place cards.
CASCADING BOUQUET
n.
A bouquet  in which flowers are arranged into a cascading, waterfall effect. When held it falls below the waist.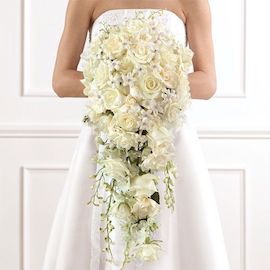 CATHEDRAL TRAIN
n.
A dress train typically over 7 feet long from the waistline. Usually reserved for formal or traditional (religious) ceremonies
CATHEDRAL VEIL
n.
A dramatic veil that extends at least 9 feet. Because of its volume, it demands the wide aisles of a cathedral (hence the name) and deft maneuvering on the part of the bride, as well as the assistance of at least one of her attendants.
CENTERPIECE
n.
The central, important display item of a table setting that sets the theme and the décor
CEREMONY
n.
The formal exchanging of vows between the bride and the groom (the wedding)
CHANNEL SETTING
n.
A type of ring setting where the stones are inlaid directly into the band, without prongs.
CHAPEL TRAIN
n.
A dress train typically 4 feet from the waistline. Ideal for a semi-formal wedding.
CHAPEL VEIL
n.
A veil that is slightly shorter then cathedral length and drapes on to the floor. Typically 90 inches long.
CHARGER
n.
A large decorative plate that's placed under the dinner plate to bring color and texture to the table.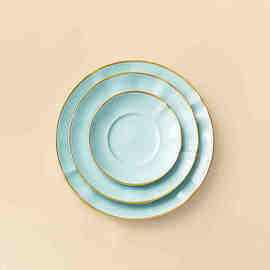 CHIFFON
n.
A lightweight, flowing sheer fabric of sheer silk or rayon.
CHUPPAH
n.
A canopy under which a Jewish couple stand during their ceremony, stretched or supported over four poles. It can be made out of cloth or flowers.
CLIP ART
n.
Ready-made pieces of computerized graphic art that can be downloaded, printed out, and used to decorate a document such as a wedding invitation, menu, thank you card, or program.
CLUSTER SETTING
n.
A grouping of several small diamonds that flank a larger center stone. Ring by Kwait.
COCKTAIL HOUR
n.
The time of pre-dinner socializing intended to create a relaxing environment for mingling, usually accompanied by hors d'oeuvres and drinks
COKTAIL ATTIRE
n.
A dress code that is less formal than black tie, and calls for men to wear tailored suits and women to wear cocktail dresses.
CONFETTI
n.
Small pieces of colored paper thrown on festive occasions, especially at the bride and groom during their ceremony exit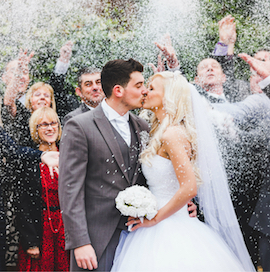 CONTRACT
n.
The agreement on wedding items and pricing; the first step in official planning process of a Vera Weddings
CORKAGE FEE
n.
A fee of roughly $5 to $10 per bottle that caterers charge just to open bottles during your reception if you provided them yourselves.
CORSAGE
n.
A small bouquet, adorned with a ribbon, usually worn on the wrist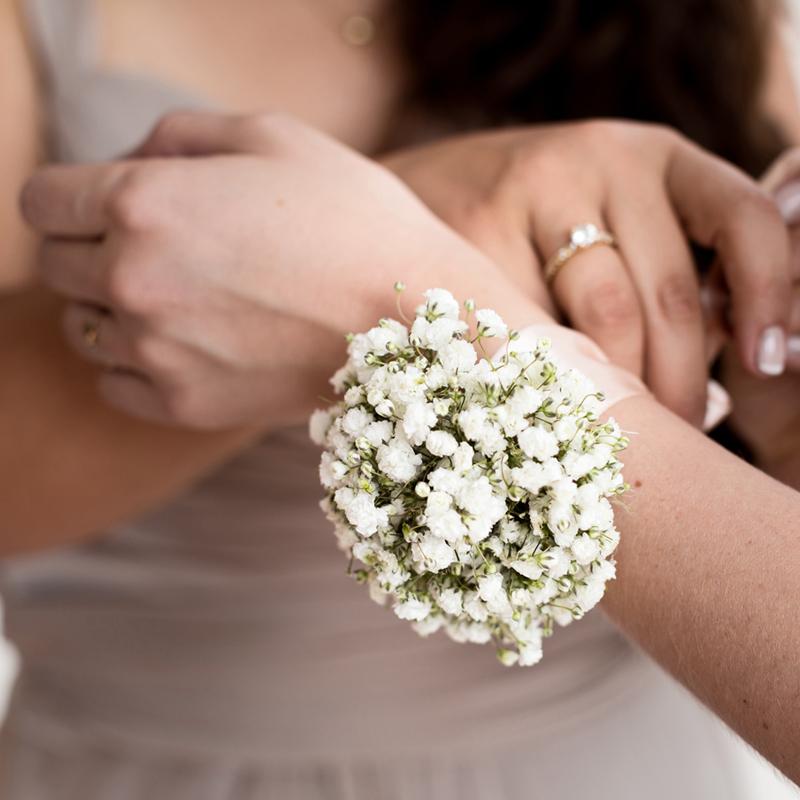 CRAFT PUNCH
n.
A craft tool used to create a decorative hole or punch in paper.
CREATIVE BLACK TIE
n.
A dress code calling for men to wear a tuxedo combined with a trendy or whimsical accessory (shirt, tie, socks, etc), usually related to the wedding's theme.
CREPE
n.
A lightweight fabric of silk, cotton, or wool with a crinkled surface. Also known as "crape."
CRINOLINE
n.
A coarse stiff fabric of cotton.
CRUDITES
n.
An appetizer of raw vegetables such as carrots, celery and cucumbers, sliced and served with dip.
CUSHION CUT
n.
A stone that's square with rounded corners.