D'ORSAY
n.
A style of woman's shoe that reveals the arch of the foot.
DAIS
n.
A platform for the head table.
DAMASK
n.
An ornate pattern or medium-weight fabric. The flowery pattern is typically comes in black and white or gold.
DEPOSIT
n.
The minimum amount due to secure a date and begin the wedding planning process.
DESTINATION WEDDING
n.
A wedding celebration in an exotic or resort location, often associated with the tropics or a beach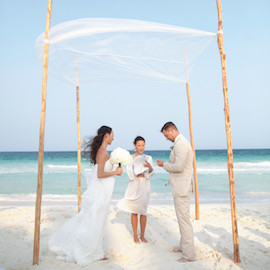 DIE CUT
n.
A technique used for invitations to create a "window" for text or images.
DINNER JACKET
n.
The jacket of a tuxedo. It is usually black or white, without tails and has a silk facing over the collar and lapels.
DRAGEE
n.
Chocolate and candy-covered almonds that are often given as favors.
DROP WAIST
n.
An elongated waistline that is positioned a few inches below the natural waist.
DUCHESS SATIN
n.
A luxurious fabric with a high thread count that's shiny on one side. It's sometimes referred to as "silk satin."
DYEABLES
n.
Shoes or fabric that can be dyed to match a specific color swatch.
ECRU
n.
A French word that means "raw" or "unbleached." The natural beige hue has become a traditional color for wedding invitations.
EMBOSSING
n.
The process of creating a three-dimensional image or design, such as a monogram, on wedding invitations, programs, menus, and thank-you notes.
EMERALD CUT
n.
A rectangle-shaped stone.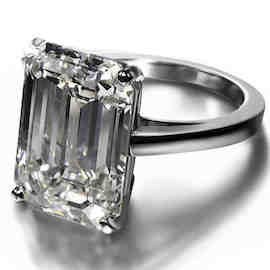 EMPIRE WAIST GOWN
n.
Raised waistline that sits just below the bust, paired with a square neckline and a wide set straps or sleeves; versatile; can accommodate a wide range of formality
ENGLISH GARDEN
n.
A full, colorful and generally informal flower arrangement. Silver containers or baskets are often used to arrange them.
ENGRAVING
n.
The most traditional form of invitation printing. Text is etched onto a copper plate, which is then coated with ink and wiped clean, leaving ink only in the indentations. When paper is pressed against the plate, it produces raised text. On this stationery, a drawing of a ranunculus bloom is engraved in deep pink.
ENTREE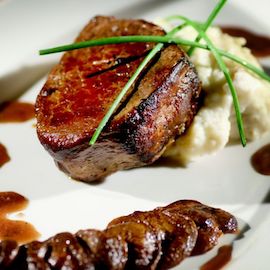 ESCORT CARDS
n.
Printed cards that inform guests of what table they'll be seated at. They are typically displayed as guests enter the reception, or at cocktail hour.
FAILLE
n.
A ribbed woven fabric of silk, rayon, or cotton that drapes very well.
FAMILY STYLE
n.
A more relaxed style of serving dinner, food is passed on serving trays and guests help themselves as they would at a dinner table.
FAREWELL BRUNCH
n.
A fun and affordable celebration to bring guests together one last time to conclude the destination wedding; an alternative to a dessert party or reception
FASCINATOR
n.
A hair accessory that's worn to the side and is often made of feathers, flowers, or wisps of fabric. It's often embellished with crystals, beads, or loops of ribbon, and attached with a comb, headband, or bobby pins.
FAVORS
n.
Includes anything from personal place cards to chocolate candies, given to guests as a token of appreciation for being there to celebrate the bride and groom's big day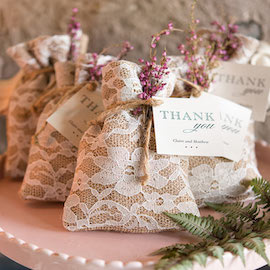 FILLER
n.
Inexpensive flowers and foliage like baby's breath used to fill out bouquets and other arrangements.
FINGERTIP VEIL
n.
A traditional veil that reaches the bride's fingertips when her hands are at her sides.
FLOOR LENGTH VEIL
n.
Also known as ballet length, these veils just brush the floor and are roughly 72 inches long.
FLORIST
n.
Your go-to expert on anything and everything floral
FLYAWAY VEIL
n.
A multilayered veil that brushes the shoulders and is perfect for dresses with open or intricate backs.
FONDANT
n.
A hard frosting made of sugar and water that's mixed together, cooked, and cooled. Like buttercream, it is traditionally used on wedding cakes.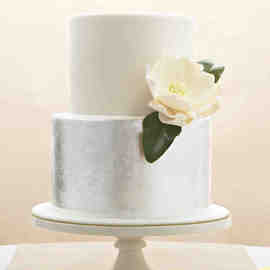 FOUNDATION
n.
A shaping undergarment such as a corset or girdle.